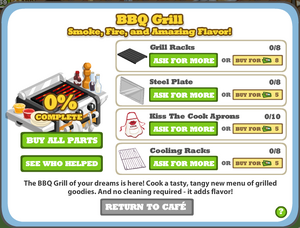 Introduced with the Super Summer Food Fest, in the Summer of 2011. Five recipes were released unique to this equipment: Pulled Pork, Tangy BBQ Chicken, 40 oz Steak Smoked Sole Fish, Tofu Veggie Skewers and Boerewors Pap en Sous.
Completion
Edit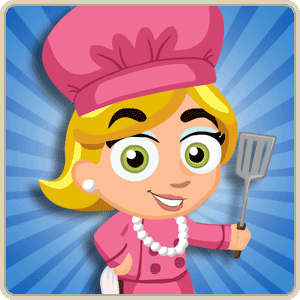 Unlock of BBQ Grill Recipes
Edit
Pulled Pork - Complete the BBQ Grill
Tangy BBQ Chicken - Master Pulled Pork to Level 1
40 oz Steak - Master Tangy BBQ Chicken to Level 1
Smoked Sole Fish - Master 40 oz Steak to Level 1
Tofu Veggie Skewers - Master Smoked Sole Fish to Level 1
Boerewors Pap en Sous - Master Tofu Veggie Skewers to Level 1

External Links
Edit
Zynga's Official Forum Guide to the BBQ Grill [1]
Ad blocker interference detected!
Wikia is a free-to-use site that makes money from advertising. We have a modified experience for viewers using ad blockers

Wikia is not accessible if you've made further modifications. Remove the custom ad blocker rule(s) and the page will load as expected.