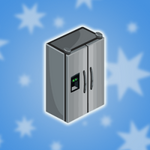 Cafe Fridge was first introduced on February 15, 2011. With Cafe Fridge, you can save food for later by moving it from your counters to your Fridge. You can also move food directly from the stove to the Fridge if all of your counters are full. When you're ready to serve your customers, choose how many servings to move back from your Fridge to your counters. You can buy it with 50

or build it. To place it, you must be at least level 20 and collect the required items (the items can be collected before level 20, but the fridge will not be placeable):
Item
Number needed

to build

needed to buy

a single part

Crisper Drawer
10
2
Condenser Coil
10
2
Door Shelf
10
2
Thermostat Control
10
2
Inside the Fridge
Edit
Associated Goals
Edit
Ad blocker interference detected!
Wikia is a free-to-use site that makes money from advertising. We have a modified experience for viewers using ad blockers

Wikia is not accessible if you've made further modifications. Remove the custom ad blocker rule(s) and the page will load as expected.