Ad blocker interference detected!
Wikia is a free-to-use site that makes money from advertising. We have a modified experience for viewers using ad blockers

Wikia is not accessible if you've made further modifications. Remove the custom ad blocker rule(s) and the page will load as expected.
Spice It Up
goal.
To be able to complete your truck you will need to collect the following by sending requests to cafe friends:
Friendly Advice (12)
Recommendations (16)
VIP Clients (12)
For every request you accept, you are automatically given 25 VIP dinners to serve.
Catering Orders
Edit
When you have collected all of the required requests, you are ready for business. If you click on the Catering Truck (from either inside or outside views), it will give you the current order list. If you click on the "Help Friends" tab here you can see what orders your neighbors are working on and help them out, without them using up a request. You do not need to be on the same order they are in order to help. By pressing on any order, you can open up the profile for it which includes what needs to be done and what the rewards for completion are.
On November 18th, the Catering Orders layout was changed to a more professional look. In this layout you can see how much percent your friend has helped. It will show the exact dishes they have cooked. With the new Catering Orders layout, you need to collect some Catering Points

to unlock a certain catering order (ex. you need 2

to unlock the Fancy Dinner Party and The Banquet catering orders). You'll get some catering points after you complete a catering order.
Current known orders are: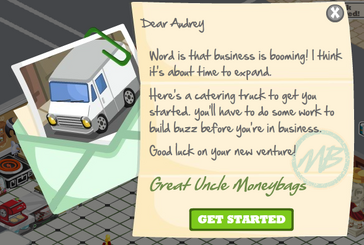 Limited Time Catering Orders
Edit
Sometimes there are events where you have to finish all the goals and the catering order in a certain amount of time, for example, the 1st Year Anniversary Party. If you don't get three stars within the event, but have plenty of time to redo it again, you can redo it. If you fail to finish the catering order with three stars and the event expires while you're working on it, you cannot redo it.
Limited Time Catering Orders:
Campaign Orders
Edit
Just like any other order, completing each order within the 3-star time limit gets you the most points and a reward recipe. Once you finish the order, the number of stars you earned are added to a percentage bar. The more stars you earn, the closer you get to unlocking a special prize!
Amelia's Campaign
Fred's Campaign
Susie's Campaign
Buck Bradshaw's Bronze Stove Campaign
The Honeymoon Campaigns
Buck Bradshaw's Graphite Stove Campaign
Buck Bradshaw's Copper Stove Campaign
Maypole Event Campaigns
The New Arrival Campaigns
Summer Fest Campaigns Part 1
Summer Fest Campaigns Part 2
The Family Vacation Campaigns
Buck Bradshaw's Gold Stove Campaign
Weekend with Baby Chai and Grandpa Campaign
Buck Bradshaw's Titanium Stove Campaign
Memory Lane Catering Campaigns
Cafe Music Awards Campaign
Back In Time Campaign
Wild Ride Campaign
Buck Bradshaw's Platinum Stove Campaign
Ever After Campaign
Halloween Holiday 2012 Campaign
Buck Bradshaw's Ruby Stove Campaign
Fall Fair Campaigns
Thanks and Giving Campaign
Naughty and Nice Campaign
Buck Bradshaw's Emerald Stove Campaign
Christmas Mystery Campaign
Buck Bradshaw's Topaz Stove Campaign
Buck Bradshaw's Sapphire Stove Campaign
Joe's Adventures Campaign
Lisa's Adventures Campaign
Buck Bradshaw's Amethyst Stove Campaign
Buck Bradshaw's Diamond Stove Campaign
Grandma's Favorite Recipes Campaign
Once Upon A Crime Campaigns
Basil Baker's Culinary Delight British Campaign
Sweet Valentine Campaigns
Cafe in Venice Campaigns
Basil Baker's Culinary Delight French Campaign
Springing Forward Campaigns
Buck Bradshaw's Fire Stove Campaign
St Patrick's Day 2013 Campaigns
Buck Bradshaw's Water Stove Campaign
Easter Blessings Campaigns
Buck Bradshaw's Sunflower Stove Campaign
Spring Melody Campaigns
A Turkish Tale Campaigns
Buck Bradshaw's Orchid Stove Campaign
Sugar and Spice Campaigns
European Symphony Campaigns
Basil Baker's Culinary Delight Spanish Campaign
Mum's The Word Campaigns
Buck Bradshaw's Daisy Stove Campaign
Australian Adventure Campaigns
Buck Bradshaw's Peacock Stove Campaign
Summer Song Campaigns
Buck Bradshaw's Macaw Stove Campaign
Basil Baker's Culinary Delight Greek Campaign
China Chronicles Campaigns
Basil Baker's Culinary Delight Italian Campaign
Flying Colors Campaigns
Buck Bradshaw's Kingfisher Stove Campaign
Bonfire Ballad Campaigns
Thai Travelogue Campaigns
Buck Bradshaw's Blue Moon Stove Campaign
Beauty And The Feast Campaigns
Beach Daze Campaigns
Mountain Adventure Campaigns
Gypsy Tales Campaigns
Scottish Shindig Campaigns
Susie's Thankful Tour Campaigns
Letters To Santa Campaigns
Chef's Specials Campaigns
The Dragon's Den Campaigns
Japan Jaunt Campaigns
Lucky Tour Campaigns
A For Effort Campaigns
Note: A bunch to be updated - working as best as I can to clear out the backlog