Chicken Gyro and Fries


  Level Unlocked at
23       
  Cost
45   
  Servings
22   
  Price per Serving
4   
  Total for all Servings
88   
  Ready in
10 mins   
  Preparation CP
3   
  Serving CP
10   
  Total CP
13   
Chicken Gyro and Fries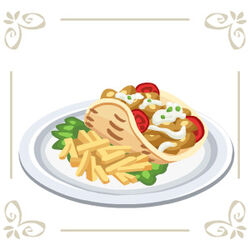 Preparing the Dish
Edit
| MENU | Step1. | Step2. | Step3. |
| --- | --- | --- | --- |
| | | | |
| Chicken Gyro and Fries | Marinade Chicken | Shred Cucumber | Slice Potatoes |
Cooking the Dish
Edit
| Stage1. | Stage2. | Stage3. | Finish! | Spoiled! |
| --- | --- | --- | --- | --- |
| | | | | |
| Mixing Tzatziki Sauce | Grilling Chicken | Stuffing Pita | Completed Dish | Spoiled Dish |
Serving the Dish
Edit

Cooking Mastery
Edit
| Chicken Gyro and Fries | | | | Grand Total |
| --- | --- | --- | --- | --- |
| Number | 61 | 78 | 98 | 237 |
| | 2,745 | 3,510 | 4,410 | 10,665 |
| Time (dd hh:mm) | 0 10:10 | 0 13:00 | 0 16:20 | 1 15:30 |
| | 610 | 780 | 980 | 2,370 |
| Reward | +2 servings | +1 | -0 00:01 |   |
Event
State
Gift
Taste Test

Events give 100 servings.

(Someone) just made a few too many gyros in Cafe World!

(Someone)'s Chef's Special at (Somewhere) is Chicken Gyro and Fries today, but customers are on a no-carb diet! (Someone) is going to give 100 gyros to each of his/her friends before they go bad!
See Also
Edit
Ad blocker interference detected!
Wikia is a free-to-use site that makes money from advertising. We have a modified experience for viewers using ad blockers

Wikia is not accessible if you've made further modifications. Remove the custom ad blocker rule(s) and the page will load as expected.