Chinese Candy Box


  Level Unlocked at
70       
  Cost
6000   
  Servings
2000   
  Price per Serving
9   
  Total for all Servings
18000   
  Ready in
2 days   
  Preparation CP
99   
  Serving CP
300   
  Total CP
399   
Chinese Candy Box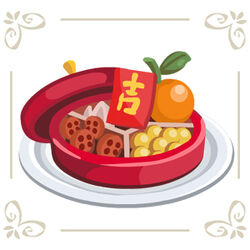 Preparing the Dish
Edit
| Menu | Step 1. | Step 2. | Step 3. |
| --- | --- | --- | --- |
| | | | |
| Chinese Candy Box | Slice Pineapple | Dice Ginger | Heat Chocolate |
Cooking the Dish
Edit
Stage 1.
Stage 2.
Stage 3.
Finish!
Spoiled!
Drying Fruit
Dipping Chocolate
Coating In Sugar
Completed Dish
Spoiled Dish
Serving the Dish
Edit

Event
State
Gift
(Someone) is hosting a FREE taste testing at (Somewhere) today!

(Someone) is in a festive mood and cooked up some delicious Chinese Candy Boxes!

(Someone) just stocked a store full of Chinese Candy Boxes in Cafe World!

(Someone)'s Chef's Special at (Somewhere) are Chinese Candy Boxes, but (Someone) doesn't have enough space to store them all! (Someone) is sharing 100 Chinese Candy Boxes with each of his/her friends!
See Also
Edit
Ad blocker interference detected!
Wikia is a free-to-use site that makes money from advertising. We have a modified experience for viewers using ad blockers

Wikia is not accessible if you've made further modifications. Remove the custom ad blocker rule(s) and the page will load as expected.