Ad blocker interference detected!
Wikia is a free-to-use site that makes money from advertising. We have a modified experience for viewers using ad blockers

Wikia is not accessible if you've made further modifications. Remove the custom ad blocker rule(s) and the page will load as expected.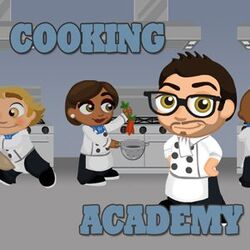 Cooking Academy was first announced on 17th November 2010. It became available on 3rd December. To join the academy, you must first click on the letters that Amelia will bring to your cafe. After that, there are four goals that you must complete in order to become a member of the Academy. After Graduation, you could choose Specialties.
Referrals
Edit
1st Referral

Get 3 referrals and a Spice Rack to enter the Cooking Academy. Do these simple tasks to earn your first referral.

  Serve 1 Spitfire Roasted Chicken  
  Unlock None  

  Serve 3 Customers  
  Unlock None  

REWARDS

| | |
| --- | --- |
|    10 Cafe Points   |    25 Coins   |
Build Your Spice Rack

Becoming a Master Chef requires becoming a master of spices. Build your Spice Rack to enter the Cooking Academy!

  Build Your Spice Rack  
  Unlock Free!  

REWARDS

| | |
| --- | --- |
|    20 Cafe Points   |    50 Coins   |
2nd Referral

Find out what's cooking in the neighborhood. Add a friend as a neighbor and pay them a visit to earn your second referral for the Cooking Academy.

  Visit 1 Neighbor  
  Unlock 3  

  Complete 2 Eat Missions  
  Unlock 5  

REWARDS

| | |
| --- | --- |
|    25 Cafe Points   |    50 Coins   |
3rd Referral

Get your last referral by finishing your Spice Rack and helping to spice up your neighbors dishes!

  Finish your Spice Rack  
  Unlock N/A  

  Spice 5 Neighbor Dishes  
  Unlock 10  

REWARDS

| | |
| --- | --- |
|    25 Cafe Points   |    100 Coins   |