Gingerbread House


  Level Unlocked at
3       
  Cost
300   
  Servings
335   
  Price per Serving
6   
  Total for all Servings
2,010   
  Ready in
22 hours   
  Preparation CP
15   
  Serving CP
97   
  Total CP
112   
Gingerbread House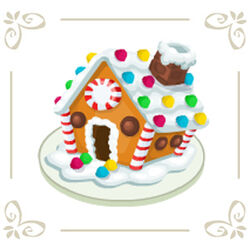 Original Dish
The Gingerbread House is a food released on December 16th, 2009 for the Holiday season. It costs 500 coins, and takes 5 days to cook, the longest of any food.
However, 250 servings eventually give you a total of 14,000 coins.. Additionally, the Cafe Points gained from serving a finished
Gingerbread house is a total of 1062 (including the Cafe Points gained from preparing the dish before the actual process of cooking.) Overall it gives the most coin profit, although it has only been released once, during the period where you could get 1 cash a day.
Gingerbread House returned again on November 23, 2010 as a Thanksgiving Goals reward with shorter cook time. To unlock this dish you need to complete the fourth Thanksgiving Goal, Invite your friends!.
Preparing the Dish
Edit
Original Steps:
Drawing Plans
Sorting Candy
Purifying Icing
| MENU | Step1. | Step2. | Step3. |
| --- | --- | --- | --- |
| | | | |
| Gingerbread House | Mix Dough | Draw Plans | Sort Candy |
Cooking the Dish
Edit
Original Stages:
Baking Gingerbread
Shaping House
Icing House
| Stage1. | Stage2. | Stage3. | Finish! | Spoiled! |
| --- | --- | --- | --- | --- |
| | | | | |
| Baking Gingerbread | Constructing House | Icing House | Completed Dish | Spoiled Dish |
Serving the Dish
Edit
Cooking Mastery
Edit
| Gingerbread House | | | | Grand Total |
| --- | --- | --- | --- | --- |
| Number | 7 | 9 | 12 | 28 |
| | 2,100 | 2,700 | 3,600 | 8,400 |
| Time (dd hh:mm) | 6 10:00 | 8 06:00 | 11 00:00 | 25 16:00 |
| | 679 | 873 | 1,164 | 2,716 |
| Reward | +17 servings | +5 | -0 01:06 |   |
Event
State
Gift
Taste Test
Chef Special
Perfect Dish
See also
Edit