Ice Cream Sundae


  Level Unlocked at
55       
  Cost
4000   
  Servings
780   
  Price per Serving
8   
  Total for all Servings
6240   
  Ready in
18 hours   
  Preparation CP
84   
  Serving CP
170   
  Total CP
254   
Ice Cream Sundae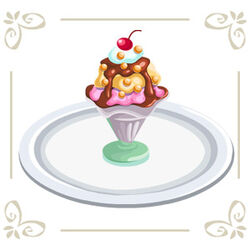 Released on March 24, 2010 as part of the Dessert Theme.
Preparing the Dish
Edit
| Step 1. | Step 2. | Step 3. |
| --- | --- | --- |
| | | |
| Measure Milk | Add Sugar | Heat Chocolate |
Cooking the Dish
Edit
Stage 1.
Stage 2.
Stage 3.
Finish!
Spoiled!
Combining Ingredients
Churning Mixture
Adding Toppings
Completed Dish
Spoiled Dish
Serving the Dish
Edit
Event
State
Gift
(Someone) is hosting a FREE taste testing at (Somewhere) today!
(Someone) has a delicious scoop of ice cream piled high with tasty morsels!

Events provide 100 servings.

(Name) is having an ice cream party at their candy cafe in Cafe World!

(Someone)'s Chef's Special at (Somewhere) is Ice Cream Sundaes but it seems not everyone is screaming for ice cream, so (Someone) decided to give 100 sundaes to each of his/her friends!
See also
Edit
Ad blocker interference detected!
Wikia is a free-to-use site that makes money from advertising. We have a modified experience for viewers using ad blockers

Wikia is not accessible if you've made further modifications. Remove the custom ad blocker rule(s) and the page will load as expected.