A Lightning Super Stove eliminates the need to add individual ingredients to a dish (like a Super Stove) and shortens cooking time by 10%.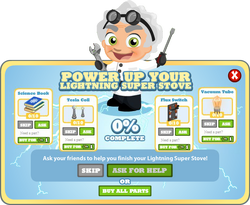 As of June 10, 2010, you can now build your own Lightning Super Stove. You need 35 parts normally, and frequently Zynga reduces the number needed for a few days. You can purchase all parts.
While this was initially limited to one free stove you can now build more or you can purchase additional ones using Cafe Cash.
---
Requirements
 
Item
Number needed

to build stove

needed to buy

a single part*

Science Book
8
1
Tesla Coils
6
1
Flux Switch
7
1
Vacuum Tube
9
1
*

is required to buy every single individual part of the super stoves.
Associated Goals
Edit
See Also
Edit
Ad blocker interference detected!
Wikia is a free-to-use site that makes money from advertising. We have a modified experience for viewers using ad blockers

Wikia is not accessible if you've made further modifications. Remove the custom ad blocker rule(s) and the page will load as expected.