Philly Cheesesteak


  Level Unlocked at
47       
  Cost
2400   
  Servings
550   
  Price per Serving
10   
  Total for all Servings
5500   
  Ready in
18 hours   
  Preparation CP
21   
  Serving CP
185   
  Total CP
206   
Philly Cheesesteak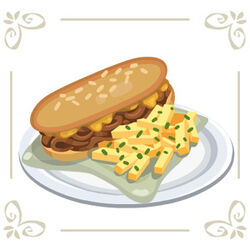 Introduced on May 20, 2010 as a part of the
Grocery Theme.
Fast Food Cuisine
Preparing the Dish
Edit
Cut Bun
Slice Meat
Melt Cheese
Cooking the Dish
Edit
Prepping Ingrediants
Frying Beef
Cooking Fries
Ad blocker interference detected!
Wikia is a free-to-use site that makes money from advertising. We have a modified experience for viewers using ad blockers

Wikia is not accessible if you've made further modifications. Remove the custom ad blocker rule(s) and the page will load as expected.