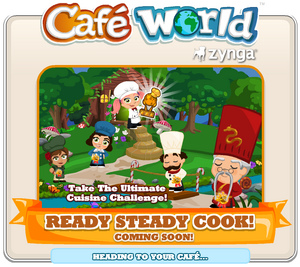 Note: Take the Ultimate Cuisine Challenge! This event is purely a cooking challenge. Cook your way to the top of the leaderboard to collect coveted Cuisine Champ Medals! Make your way up the garden path to earn fantastic rewards!
Note: A new daily bonus was added just for this event to earn extra cuisine star points.
Note: Special 4th Anniversary week - 20% more cuisine stars per serve and an extended timer.
Dishes
Decor/Functional Items
Apple Pie 4x Ultra Stove - upgradeable to 14x Ultra Stove
Berry Crepe Counter
Berry Crepe 4x Ultra Stove - upgradeable to 13x Ultra Stove
Blue Chef 4x Ultra Stove - upgradeable to 13x Ultra Stove
Chef Hat Chairs
Chef Hat Lamps
Chef Shelf
Chef Hat Table
Chef Kitchen Cabinet
Chef Teapot
Creme Brulee 4x Ultra Stove - upgradeable to 13x Ultra Stove
Dim Sum Counters
Dim Sum 4x Ultra Stove - upgradeable to 13x Ultra Stove
Golden Chef 4x Ultra Stove - upgradeable to 13x Ultra Stove
Green Chef 4x Ultra Stove - upgradeable to 13x Ultra Stove
Key Lime Pie Counter
Key Lime Pie 4x Ultra Stove - upgradeable to 13x Ultra Stove
Lasagna 4x Ultra Stove - upgradeable to 13x Ultra Stove
Macaroon 4x Ultra Stove - upgradeable to 13x Ultra Stove
Nachos 4x Ultra Stove - upgradeable to 13x Ultra Stove
Noodle Bowl Counter
Noodle Bowl 4x Ultra Stove - upgradeable to 13x Ultra Stove
Red Chef 4x Ultra Stove - upgradeable to 13x Ultra Stove
Spoon Chairs
Spoon Tables
Strawberry Counters
Strawberry 4x Ultra Stove - upgradeable to 13x Ultra Stove
Super Chef 4x Ultra Stove - upgradeable to 13x Ultra Stove
Taco 4x Ultra Stove - upgradeable to 13x Ultra Stove
Taco Counters
Tiramisu Counters
Tiramisu 4x Ultra Stove - upgradeable to 13x Ultra Stove
Tofu Tart 4x Ultra Stove - upgradeable to 13x Ultra Stove