Sauteed Turbot


  Level Unlocked at
15       
  Cost
1620   
  Servings
300   
  Price per Serving
12   
  Total for all Servings
3600   
  Ready in
6 hours   
  Preparation CP
45   
  Serving CP
140   
  Total CP
185   
Preparing the Dish
Edit
| MENU | Step1. | Step2. | Step3. |
| --- | --- | --- | --- |
| | | | |
| Sauteed Turbot | Clean Fish | Sift Flour | Squeeze Lemon |
Cooking the Dish
Edit
| Stage1. | Stage2. | Stage3. | Finish! | Spoiled! |
| --- | --- | --- | --- | --- |
| | | | | |
| Breading Turbot | Sauteing Fish | Seasoning Dish | Completed Dish | Spoiled Dish |
Serving the Dish
Edit
Cooking Mastery
Edit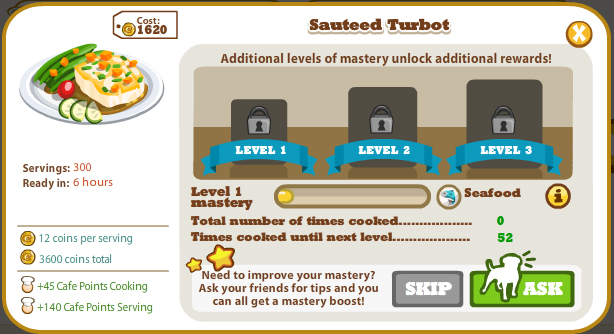 Event
State
Gift
(Someone) is hosting a FREE taste testing at (Somewhere) today!

(Someone) has perfected a tender sauteed Turbot filet, and there's a piece waiting in their Cafe for you!

 ???
Ad blocker interference detected!
Wikia is a free-to-use site that makes money from advertising. We have a modified experience for viewers using ad blockers

Wikia is not accessible if you've made further modifications. Remove the custom ad blocker rule(s) and the page will load as expected.