You can give these special gifts to your neighbors for free. They show up on your main Cafe World page and you can send 200 servings.
Special gifts started off as 200 servings of regular items, but were changed to 200 servings of special items that sell for 4 coins per serving.
As of March 19, 2010, the special gifts are "up to 10,000 servings".
Receiving 10,000 servings is very unlikely, but actually happening: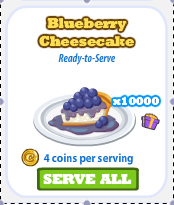 Other Special Gifts
Edit
These gifts are high priced, small quantity gifts that have special requirements to send/receive.
Ad blocker interference detected!
Wikia is a free-to-use site that makes money from advertising. We have a modified experience for viewers using ad blockers

Wikia is not accessible if you've made further modifications. Remove the custom ad blocker rule(s) and the page will load as expected.