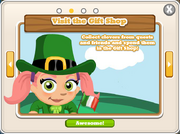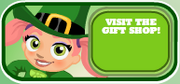 Clovers earned from completing the St. Patrick's Day 2012 Clover Goals, St. Patrick's Day 2012 Pot of Gold Goals, and collected from St. Patrick Day Card Requests can be spent here at the Gift Shop. Items available for purchase are recipes, decor, spices, and stoves.
Ad blocker interference detected!
Wikia is a free-to-use site that makes money from advertising. We have a modified experience for viewers using ad blockers

Wikia is not accessible if you've made further modifications. Remove the custom ad blocker rule(s) and the page will load as expected.