Sushi Spread


  Level Unlocked at
30       
  Cost
1200   
  Servings
1050   
  Price per Serving
6   
  Total for all Servings
6300   
  Ready in
20 hours   
  Preparation CP
24   
  Serving CP
210   
  Total CP
234   
Sushi Spread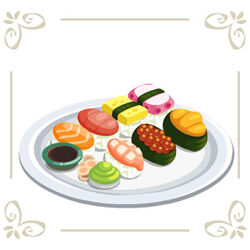 Introduced on April 22, 2010 as a part of the
Aquatic Theme
The Sushi Spread includes salmon, tuna, Japanese omelette, octopus, shrimp, salmon roe, and sea urchin. The dish is also served with a side of soy sauce, ginger, and wasabi.
Preparing the Dish
Edit
| Menu | Step 1. | Step 2. | Step 3. |
| --- | --- | --- | --- |
| | | | |
| Sushi Spread | Rinse Rice | Clean Fish | Chop Vegetables |
Cooking the Dish
Edit
Stage 1.
Stage 2.
Stage 3.
Finish!
Spoiled!
Boiling Rice
Slicing Fish
Assembling Sushi
Completed Dish
Spoiled Dish
Serving the Dish
Edit

Event
State
Gift
(Someone) is hosting a FREE taste testing at (Somewhere) today!

(Someone) rolled up a Spread of Sushi!

(someone) is sharing a taste of the sea with a Spread of Sushi!

(someone)'s Chef's Special at (somewhere) is Sushi Spread but customers all want California Rolls, so (someone) is giving 100 dishes to each of his/her friends!
Ad blocker interference detected!
Wikia is a free-to-use site that makes money from advertising. We have a modified experience for viewers using ad blockers

Wikia is not accessible if you've made further modifications. Remove the custom ad blocker rule(s) and the page will load as expected.