Tikka Masala Kabobs


  Level Unlocked at
5       
  Cost
215   
  Servings
90   
  Price per Serving
4   
  Total for all Servings
360   
  Ready in
1 hour   
  Preparation CP
6   
  Serving CP
15   
  Total CP
21   
Tikka Masala Kabobs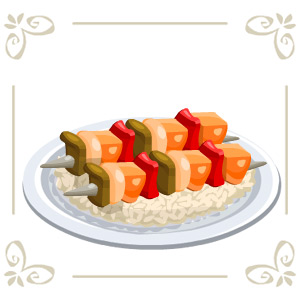 Original Dish
Preparing the Dish
Edit
| MENU | Step 1. | Step 2. | Step 3. |
| --- | --- | --- | --- |
| | | | |
| Tikka Masala Kabobs | Crushing Garlic | Slicing Peppers | Rincing Rice |
Cooking the Dish
Edit
Stage 1.
Stage 2.
Stage 3.
Finish !
Spoiled !
Cubing
Ingrediants
Skewering
Grilling Kabobs
Completed Dish
Spoiled Dish
Serving the Dish
Edit

Cooking Mastery
Edit
| Tikka Masala Kabobs | | | | Grand Total |
| --- | --- | --- | --- | --- |
| Number | 15 | 19 | 24 | 58 |
| | 3,225 | 4,085 | 5,160 | 12,470 |
| Time (dd hh:mm) | 0 15:00 | 0 19:00 | 1 00:00 | 2 10:00 |
| | 225 | 285 | 360 | 870 |
| Reward | +5 servings | +1 | -0 00:03 |   |
Event
State
Gift
(Someone) just proved he is truly the Tikka Masala Master !

(Someone) just learned how to make Tikka Masala Kabobs for their cafe in Cafe World ! Before the customers at (somewhere) get a taste, he'd/she'd like to make sure they're not too spicy !

(Someone) just served a Perfect Dish !

(Someone) is well on their way to becoming a Master Chef ! Their latest attempt at Tikka Masala Kabobs turned out perfectly, and they set aside 100 perfect servings to share with you !
Ad blocker interference detected!
Wikia is a free-to-use site that makes money from advertising. We have a modified experience for viewers using ad blockers

Wikia is not accessible if you've made further modifications. Remove the custom ad blocker rule(s) and the page will load as expected.