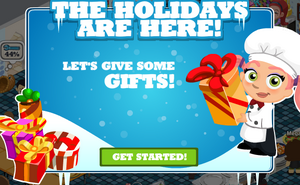 12 Days Dishes
Edit
Grand Prize
Edit

Finish all 12 days before the time runs out to open the special prize door!
The grand prize consists of 3 different spice packs, 2 stoves, 10 Cafe Cash, and 50 tickets.
Automatic Gift Wrapper Dishes
Edit
Nut Roaster Dishes
Edit
Gift Table Dishes
Edit
Note: Dishes unlock through gifts on your Winterfest Gift Table
Special Items
Edit
External Links
Edit
Ad blocker interference detected!
Wikia is a free-to-use site that makes money from advertising. We have a modified experience for viewers using ad blockers

Wikia is not accessible if you've made further modifications. Remove the custom ad blocker rule(s) and the page will load as expected.